Join our team and set the benchmark for excellence in your career.
Welcome to one of the leading employers in the industry, where our long average staff tenure speaks volumes about our culture and reputation, and where becoming part of our team gives you the exposure and ability to collaborate with experts in the field who are driving innovative practices and quality rehabilitation.
At our core, we offer an unparalleled working environment, exceptional culture, and generous employee benefits. If you are a talented and passionate allied health professional, we would be keen to hear from you.
Benefits
Competitive salary package with bonus scheme up to $10,000 annually
Flexible working hours and work-from-home options
Paid parental leave
Salary packaging including novated leases
Professional development
Purchase additional annual leave
Corporate health insurances discounts, Employee Assistance Program and much more!
What makes us unique
Dynamic team culture
Joining Benchmark Rehab means more than just a job. You'll become part of a collaborative team culture that goes beyond the ordinary.
We prioritise engagement and growth, fostering an environment where your professional journey flourishes and your wellbeing is prioritised.
We are setting the benchmark for team culture!
89%

of staff feel their manager genuinely cares about their wellbeing

Benchmark Rehab's inaugural 'Spotlight Conference' in Oct 2023, focusing on wellness with inspiring speakers and team fun.
Learning from the best
Joining our team means gaining access to a wealth of industry experience. Our commitment to your growth is unwavering. Immerse yourself in continuous learning and mentorship, gaining practical insights from some of the best experts in the field.
of our consultants have 20+ years of experience
of senior consultants have 15+ years of experience
of our Occupational Therapists have a minimum of 10 years' experience
Return to Work rate achieved in the last 12 months
Diverse client group
Working at Benchmark Rehab offers you the chance to collaborate with a diverse range of clients throughout their lifespan, from paediatrics to the elderly. You will be instrumental in not only facilitating their return to work but also helping clients regain their lives.
Our diverse client base includes:
CTP care: Assisting clients involved in motor vehicle accidents to regain their quality of life.
Life insurance: Supporting individuals to overcome physical and mental health challenges and resume their daily activities.
Aged care: Enhancing the quality of life for elderly clients by addressing mobility and functional limitations.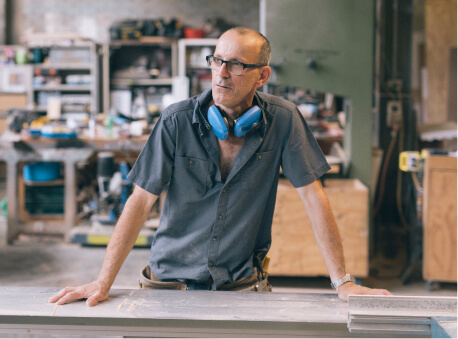 Contact us
If you have any questions please don't hesitate to contact us. We'll get back to you soon.