Supporting individuals to reclaim their quality of life
Assisting individuals to get back on their feet and live their best life
Empowering the workforce with injury prevention knowledge and tools for a safer workplace
Guiding rehabilitation decisions with objective evaluations
Helping individuals to regain their sense of wellbeing
Enabling individuals to achieve the goals most important to them
Why Benchmark?
We put our customers first. Our solution-focused approach means we become an extension of your team, providing expert guidance and support every step of the way. What sets us apart is our highly skilled and specialised team, with their extensive experience, we consistently deliver outstanding results in workplace rehabilitation, specialist assessment and training, injury prevention, and wellness support.
Trust and reliability are at the heart of our brand, and we're proud to set the benchmark for best practice in the industry. Choose us for a partner that puts your success and satisfaction first.
36% of our consultants have over 20 years of experience
Return to Work rate achieved in the last 12 months
Individuals injured in MVA's supported last year
People assisted in CTP across Australia
Find us in a location
near you
Benchmark Rehab provides virtual services anywhere in Australia, or in-person allied health services across New South Wales, Australian Capital Territory, Queensland, South Australia, and Tasmania.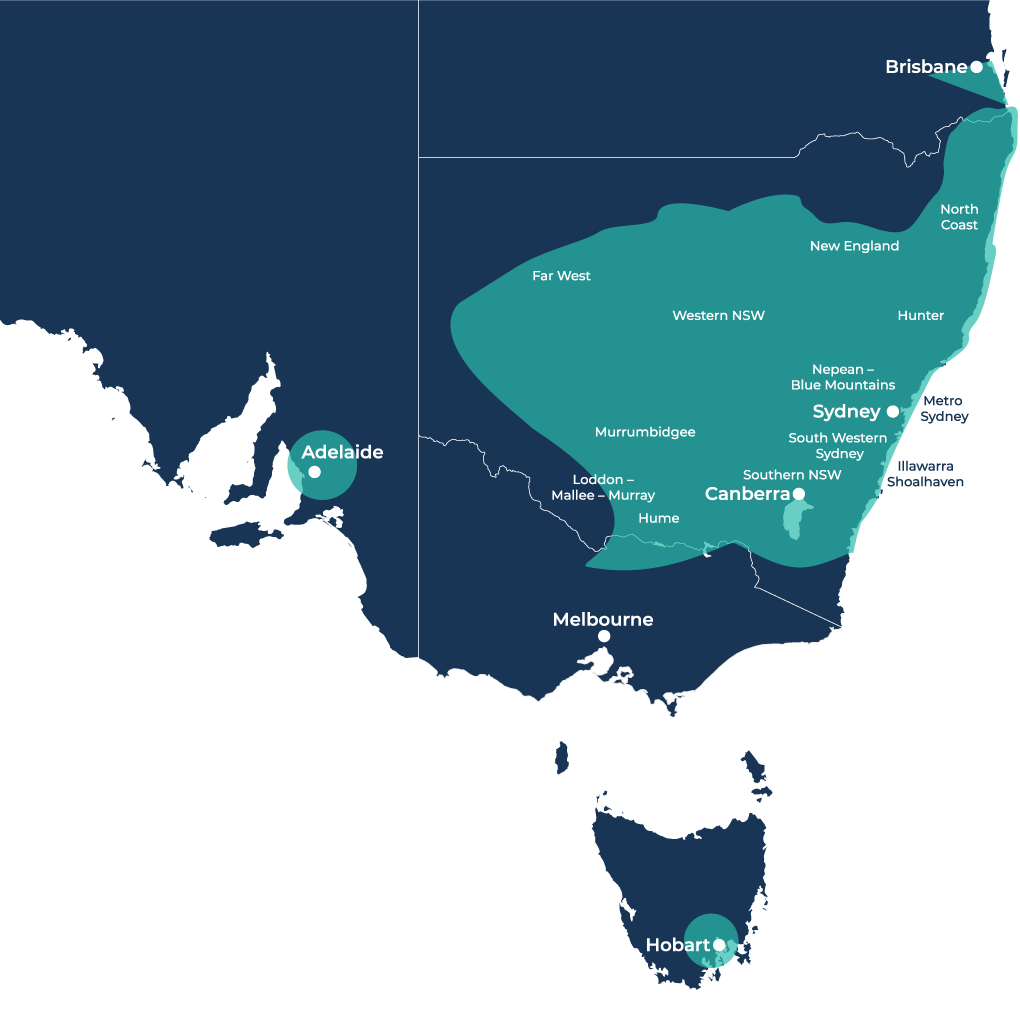 Working with Benchmark Rehabilitation has been a pleasure. The team's efficient and informative responses, insightful strategies, and commitment to obtaining information from providers, claimants, and referrals have greatly assisted with our time management in responding to medical requests.
Highly recommended! Benchmark's team demonstrated exceptional efficiency and effectiveness with a remote client referred to us 2 years post-accident. Despite the short referral time, they helped the client return to work within a few weeks after enduring over two years of shoulder pain.
I just want to take a moment to let the team at Benchmark Rehab know what a stellar job they do. As a client, I am very appreciative of all the help they provide. Their dedication to providing exceptional service is evident in every interaction.
Benchmark Rehab provided exceptional service to me during my time of need. The team was prompt and organised services quickly to assist me with my injury at home. I am very, very happy with the level of care and attention that Benchmark provided me.
Our partners